Kailo Training Institute
Details

Category: Blog
This is the time of the year when potential students and curious enthusiasts look around for learning opportunities to start new adventures. The hunger for these new adventures is usually part of their life's journey that coincide with their God-given calling.
People with the most touching stories about their God-given calling that was clear from their youth. However, as they grew older life happened and they had other responsibilities that prevented them from pursuing those dreams.
This is a good time to stop and revisit the dreams in your heart. Get your head around what you want to do. Dreams about reaching your destiny will involve preparation and work. If you know what you are passionate about and what you what to do, the process of finding opportunities to help you to dream that dream becomes much easier.
Do you think about helping people and becoming a counsellor? Kailo Training Institute prepared a 20-question quiz to help you assess whether you can be a good counsellor. This will give you an overview of the characteristics you need to venture into counselling.
The Counselling School at Kailo Training Institute approaches counselling training from several angles. The first step is a suitable selection process, followed by a sound theoretical basis from a Christian Pastoral Counselling perspective and you select the field in which you want to do your practical application. This means that you can choose to specialize in a vast number of modalities like counselling children, marriages, families, trauma and so forth.
We offer online training for adults, with regular interactions with the facilitators, to ensure maximum skills development of all students. Our Dean, Dr Barbara Louw is closely involved in giving guidance to pre- and post-graduate students.
Information about Kailo Training Institute's Counselling School and Bible School is on our website. The section "Frequently Asked Questions" provides detail about programmes, content, methods and prices. You can express your interest by completing the form and sending it with the required documents. We will arrange a preliminary interview via Zoom at no extra cost.
We are looking forward to hearing from you.
Details

Category: Blog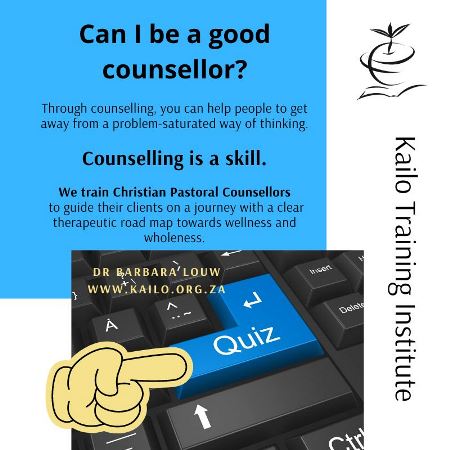 Can I be a good counsellor?
This is a burning question in many people's hearts. Some feel that they are not good enough to help others or that they are too insignificant.
I grew up knowing that I have a God-given calling to help people, but along the way, I started thinking I wasn't that clever. Now I know that I am unique, and I can help people in a unique way without neglecting who I am.
There is comfort in being a compassionate human being sitting and being present with another human being. The healing power is through the working of the Holy Spirit and as counsellors we can be bridge builders between a hurting soul and God.
You are unique. You have incredible aspects of yourself that allow you to connect to others. On the one side, you can read this book or that book and read this certain article on social and on and on.
You can develop your skills to help others in many ways. Kailo Training Institute trains Christian Pastoral Counsellors to guide people on a journey with a clear therapeutic road map toward wellness and wholeness. Through counselling, you can help people to get away from a problem-saturated way of thinking toward hope and healing.
At Kailo Training Institute we teach you to define helping and healing. We train you to use the Bible as your handbook and to utilize skills that are tested and practised over many years. In the training, we help you to explore the importance of your traumas and biases and fears. You didn't have to have all the answers. After all, who called you to do this work?
This is not just a call for Expressions of Interest. There is a 20-question-quiz available if you wonder whether you can be a good counsellor. You will have to create an account for access to the quiz and the results. The link to the free QUIZ.  
Kailo Training Institute offers non-secular training in the form of a BA in Counselling and a MA in Counselling. We recognise prior learning and ministry experience. Detail about the programs is available in the Frequently Asked Questions section.
Details

Category: Blog
The team at Kailo Training Institute is committed to supporting learners to complete their studies successfully. We have first-hand experience of the challenges experienced by adult learners, especially the multi-vocational scholars.
Although the programs are presented online and learners can work asynchronous and at their own pace no one is left to struggle alone. The lecturers are seasoned facilitators who arrange weekly online contact sessions with the learners.
The lecturers are involved in the preliminary interviews, the selection process and coaching during the studies and practical work.
The learners receive a grid with all the modules they have to complete and there are additional models to assist with practical aspects such as writing skills and research methods.
Even though learners can work at their own pace, there are milestones that they have to reach to ensure that their studies will be completed within the contracted timeframe.
If you are interested in studying with us, you can send an Expression of Interest today. There is a quiz available if you wonder whether you can be a good counsellor. The link to the QUIZ.  
Details

Category: Blog
Kailo Training Institute is expanding to offer a Counselling School and a Bible school for people who dream about developing their knowledge to minister more effectively to people. Our learners are motivated by a God-given calling to leave no one in pain by ministering to people.
The training programs are well-structured courses with a clear road map of what a learner needs to master in a specific year. There are also modules to help learners understand academic language and requirements that are a value-added benefit.
Learners who are selected for the master's programs have to work towards a thesis in a given format. Your thesis is a report that tells the story of your research journey. Your supervisor's role is to help you to translate this story into a language that is both accountable and understandable to others. (Dr Barbara Louw)