Kailo Training Institute
Details

Category: Blog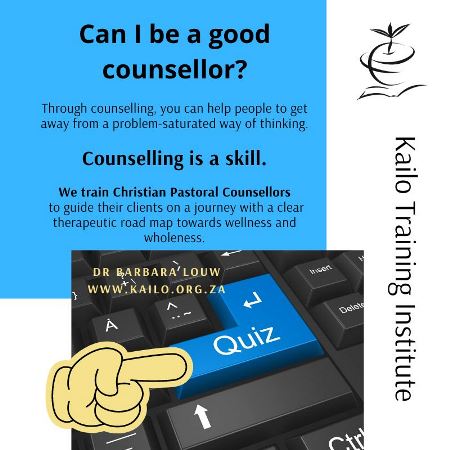 Can I be a good counsellor?
This is a burning question in many people's hearts. Some feel that they are not good enough to help others or that they are too insignificant.
I grew up knowing that I have a God-given calling to help people, but along the way, I started thinking I wasn't that clever. Now I know that I am unique, and I can help people in a unique way without neglecting who I am.
Details

Category: Blog
The team at Kailo Training Institute is committed to supporting learners to complete their studies successfully. We have first-hand experience of the challenges experienced by adult learners, especially the multi-vocational scholars.
Although the programs are presented online and learners can work asynchronous and at their own pace no one is left to struggle alone. The lecturers are seasoned facilitators who arrange weekly online contact sessions with the learners.
The lecturers are involved in the preliminary interviews, the selection process and coaching during the studies and practical work.
The learners receive a grid with all the modules they have to complete and there are additional models to assist with practical aspects such as writing skills and research methods.
Even though learners can work at their own pace, there are milestones that they have to reach to ensure that their studies will be completed within the contracted timeframe.
If you are interested in studying with us, you can send an Expression of Interest today. There is a quiz available if you wonder whether you can be a good counsellor. The link to the QUIZ.  
Details

Category: Blog
Kailo Training Institute is expanding to offer a Counselling School and a Bible school for people who dream about developing their knowledge to minister more effectively to people. Our learners are motivated by a God-given calling to leave no one in pain by ministering to people.
The training programs are well-structured courses with a clear road map of what a learner needs to master in a specific year. There are also modules to help learners understand academic language and requirements that are a value-added benefit.
Learners who are selected for the master's programs have to work towards a thesis in a given format. Your thesis is a report that tells the story of your research journey. Your supervisor's role is to help you to translate this story into a language that is both accountable and understandable to others. (Dr Barbara Louw)